INSTALL DRIVER
Masuk ke website :
https://zadig.akeo.ie
atau download disini
https://github.com/pbatard/libwdi/releases/download/v1.4.1/zadig-2.7.exe
DOWNLOAD AIDA 64 SOFTWARE
https://www.aida64.com/downloads
1 Product overview:
This product is a mini personal computer hardware status monitor, which displays various parameters of personal computer hardware, such as CPU GPU load, temperature, fan speed, network speed, and various chip core voltages through the cooperation of the well-known hardware monitoring aida64 software. ……
2 Product parameters:
1 Product three-dimensional size: 95X58X8 mm
2 Connection with PC MICRO 5P USB 
3 Power supply voltage and current: 5V 100ma
3 Product configuration and use:
Step 1: Connect the LCD screen to the Connect to a personal computer and wait for the computer to recognize it.
  WIN10 prompts that the LCD screen is being configured:
Open the device manager of the personal computer and find an unknown device::
Step 2: LCD screen USB driver installation:
Unzip the supporting software package and open the supporting software folder, double-click to open zadig-2.5, at this time, the driver installation software can recognize the USB-Display device, click the green arrow at the most Right down arrow, select libusb-win32 (v1.2.6.0), click the install Driver button, the software may freeze for a while, don't worry, just wait patiently for the software to complete the driver installation.
After the driver is installed successfully::
You can see in the device manager:
At this point, the LCD screen USB driver is installed.
 Note:
When the driver installs the software, you need to exit all anti-virus software, so as not to be killed and blocked by the anti-virus software, resulting in the failure of the driver installation.
The third step: aida64 software setting and monitoring UI template import:
 After opening the aida64 software. Click File Settings. Enter the aida64 setting interface

After entering the setting interface, click the LCD item, find the AX206 in the support list, and check Enable AX206 LCD support. At this time, the LCD screen will display the aida64 information screen.
Next, click LCD Iterms and then click the import button Browse to find the matching UI template file,selectOpen.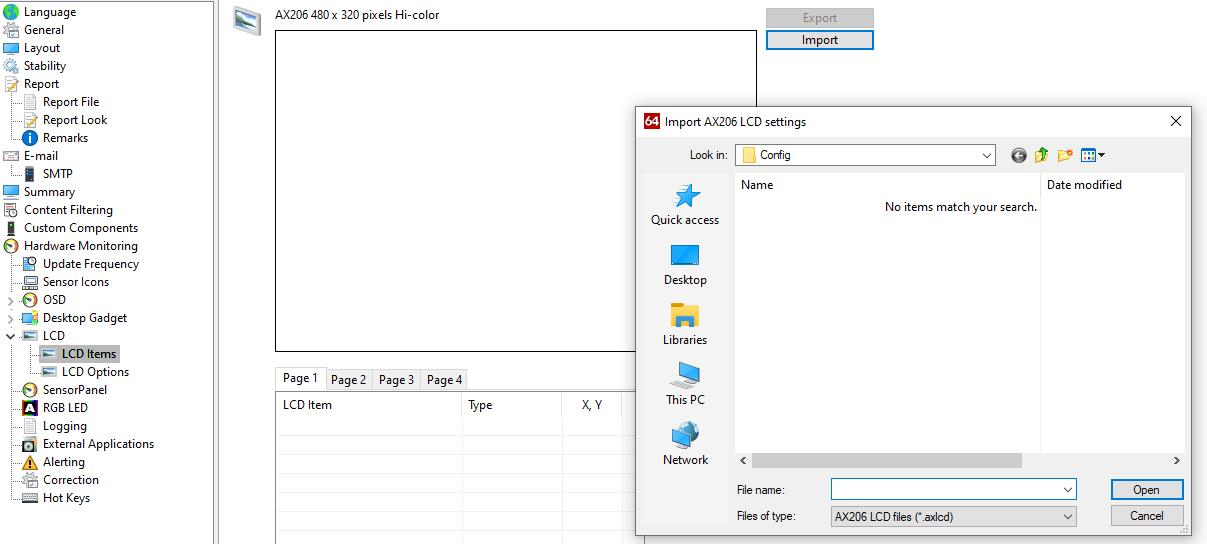 Then, click the Apply button to complete the aida64 configuration. At this time, the selected UI template will be displayed on the LCD screen.
At this point, the basic setting of aida64 is over.
Extended settings:
Make aida64 start up and minimize it to the tray, just check it in the general settings.
DOWNLOAD TEMPLATE AIDA 64 SCREEN DISPLAY